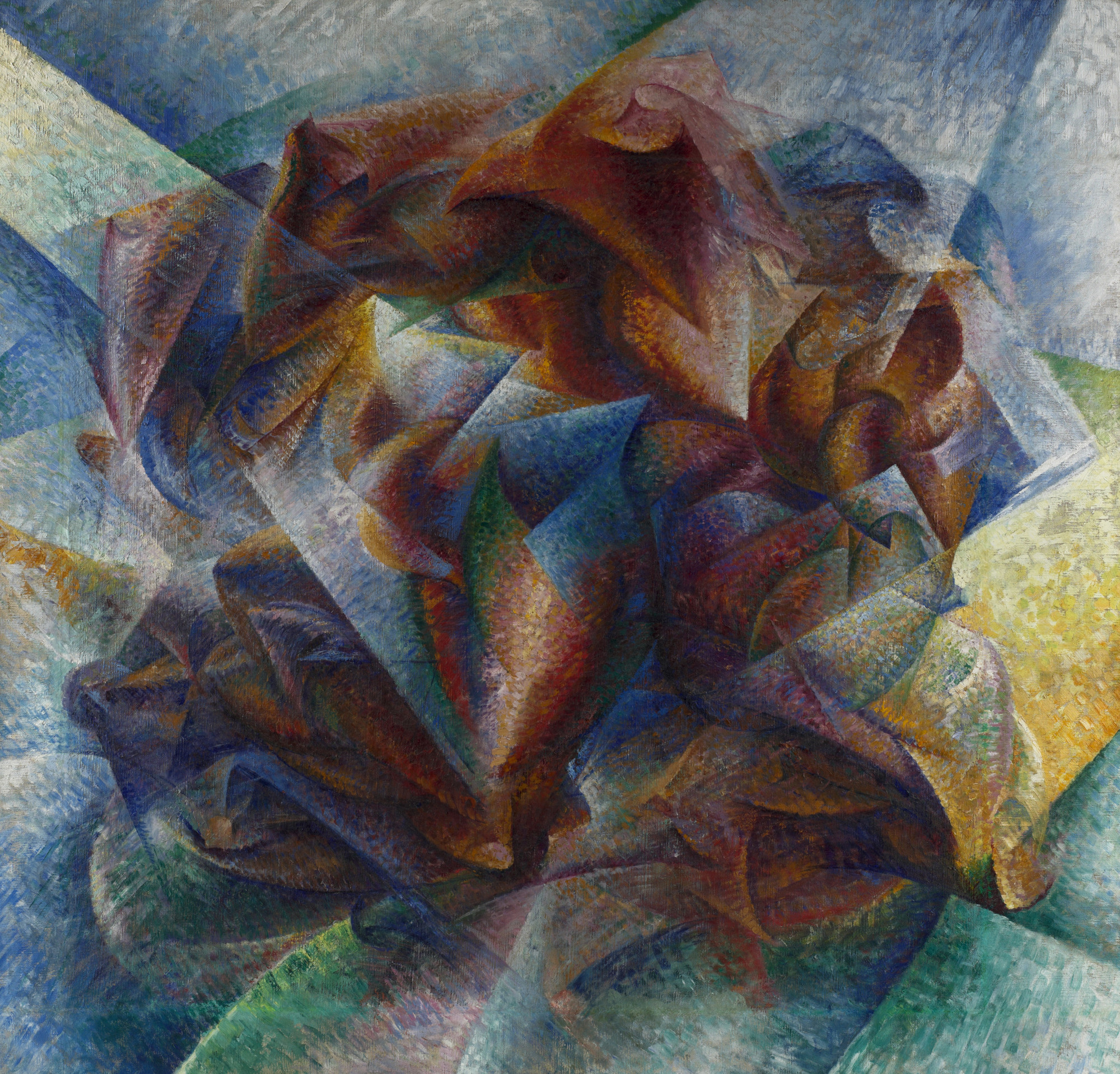 Umberto Boccioni. Dynamism of a Soccer Player. 1913
546
Narrator: Umberto Boccioni was a member of the Italian Futurists, a group of artists active around World War I. They glorified the energy of modern life by painting trains, automobiles, machines, and figures bursting with motion. Here, Boccioni depicts a soccer player. Curator Ann Temkin:
Curator, Ann Temkin: Although this seems like an entirely abstract composition to many people who look at it, if you stare hard, you can understand that Boccioni is actually using certain aspects of a body to give these fragmented forms their identity. You feel the protrusion of elbows or shoulders at the lower right, you feel the soccer player's left leg extending down through that yellow ray coming from the edge of the canvas, with a foot pointing down toward the lower right-hand corner.
The individual strokes of the paintbrush are something that Boccioni is careful to leave very distinct, so that you become aware of this almost staccato rhythm of the way the paint is applied.
By contrasting colors with each other, by using extremely vibrant hues, and then dividing them into sections, they would seem like rays of light … streaming from a light source onto the painting – even though in fact they were just part of the painting's composition.
Narrator: Athletes were a favorite subject for the Futurists.
Curator, Ann Temkin: Because they liked the idea of equating an artist with the ambition and the strength and the power and the energy of somebody, for example, on a soccer field. So this soccer player for the Futurists, and for Boccioni in particular, served as a model both to describe their ideal of what an artist might be, and also provided the vehicle for him to paint a painting full of motion, and full of fractured light and divided planes that convey this idea that a picture is not something that stands still.