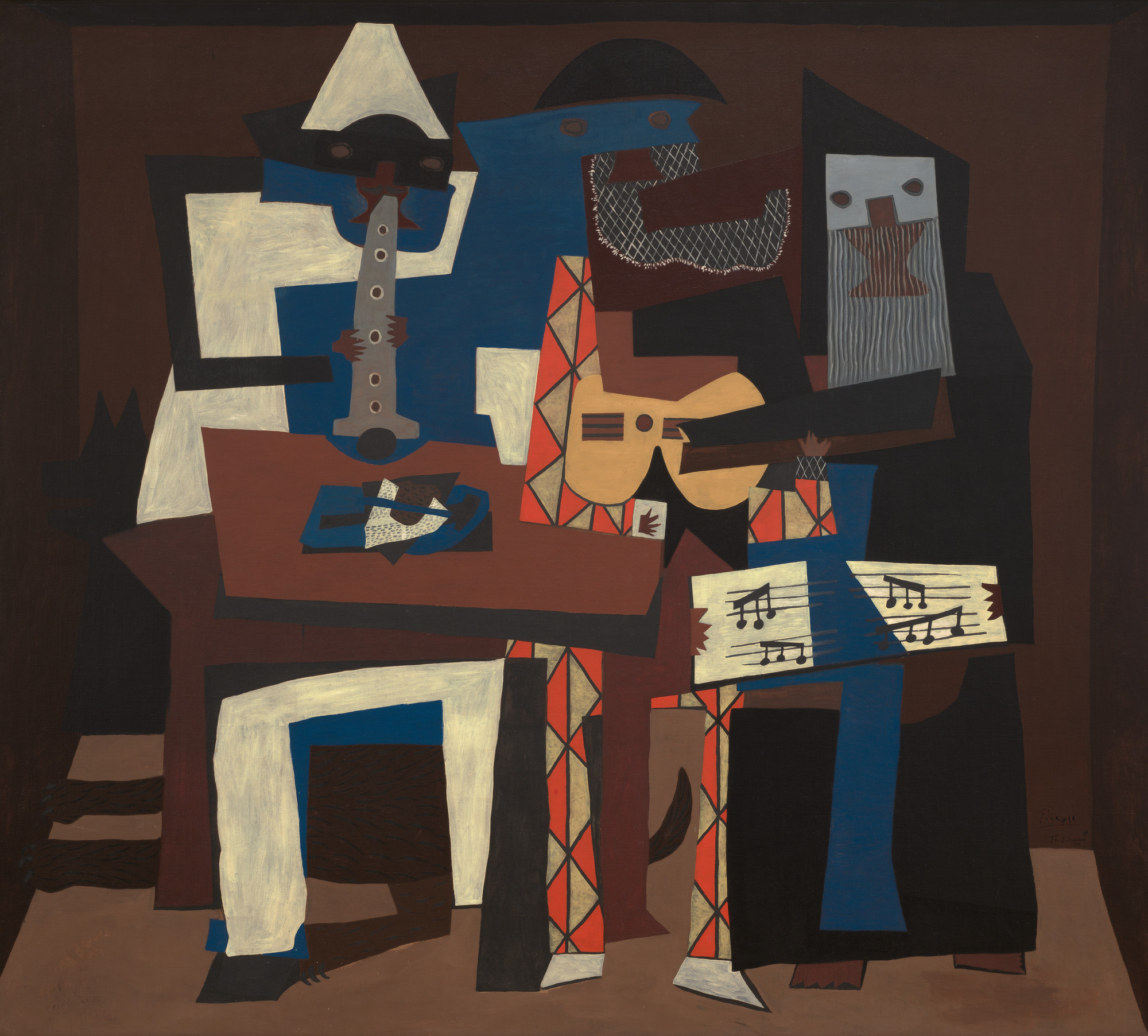 Pablo Picasso. Three Musicians. Fontainebleau, summer 1921
510
Curator, Anne Umland: We are looking at Pablo Picasso's Three Musicians, a monumental work executed during the summer of 1921 in Fontainebleau, which is a chateau town just outside of Paris where Picasso had rented a villa for the summer and was using a garage as his studio.
And it is interesting to think about Picasso's deep consciousness of the fact that he is painting in a location, which was renowned for its tapestries and monumental paintings in the grand French style. And to think of this painting, in fact, as an assertion of Picasso's confidence in Cubism as a style that could rival the greatest French art of the past.
The more you look at this picture, the more you begin to realize that each of these figures and the setting they inhabit is decidedly strange. On the left, a masked Pierrot who's playing a clarinet. The Pierrot figure has been related to the poet, Guillaume Apollinaire, who was a great friend of Picasso's in the years prior to World War II, and who by the time this work was dead. At the right, you see a singing monk who holds a sheet of musical notes in his very small sort of claw-like hands or paws. The monk has been connected to another old friend of Picasso, the poet Max Jacob, who earlier this year in 1921, had in fact, entered a Benedictine monastery. And then at center, strumming a guitar is the brightly colored figure of a harlequin who's often in Picasso's work—a stand-in or an alter ego for the artist himself.
I think one of the most humorous details in this large work is the dog. If you look very carefully at the lower left corner of the painting, you'll see his two forelegs and his head peeking out. And then follow along under the table and you'll find his curving tail pointing up rather suggestively between the harlequin's legs.