In Conversation
Martha Rosler with Sabine Breitwiester
Stepping out from behind the proscenium arch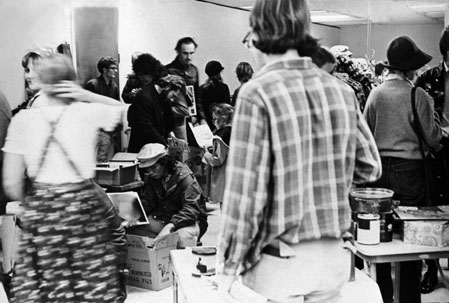 In spring and fall of 2012, Martha Rosler and Sabine Breitwieser, Chief Curator of Media and Performance at MoMA, discussed the history of the Garage Sale as well as elements of Rosler's artistic practice.
---
When did you first stage your Garage Sale and where?
I held the Monumental Garage Sale in 1973, at the art gallery belonging to the Visual Arts Department at the University of California, San Diego, where I was a graduate student.
What were your intentions with the project?
I had moved to Southern California from New York, in 1968, after a summer at a linguistics institute in central Illinois. As a resident of New York, I was largely unaware of the customs and folkways of the vast country of which I was a citizen. In the small towns and suburban communities in these two places, Southern California and central Illinois, I saw many so-called garage sales—a phenomenon I was completely unaware of. I was struck by the strange nature of these events, their informal economic status and self-centeredness, but also the way they implicated the community in the narrative of the residents' lives. In New York, people who wish to rid themselves of castoffs simply put them on the street for other, perhaps less fortunate, people to take home and use. There was no thought of that in any garage sale, of course; these sales were apparently about maximizing one's, or one's family's, cash on hand, often put together and run by the woman of the house, and perhaps her children. At the time, the US was suffering the famous oil shock, and the economy was in bad shape. No wonder people were trying to make ends meet by selling their goods! But the motive of charity and sharing seemed absent.
On the other hand, people did not hesitate to expose their past choices, or unwanted gifts, in clothing and household knickknacks and other decorative items, to the scrutiny of their neighbors, apparently confident that their lives and tastes were very similar. Nor did people seem to think it was dirty or beneath them to be seen sitting on their lawn chairs all day, waiting for customers to drop by and haggle—which of course would be the operative caution for New Yorkers, whether middle class or working class. And in most cases in New York, you wouldn't have a front yard or garage to repair to! Garage sales, in their domestic and usually individualized character, were only superficially like flea markets, which were mostly populated at that time by professional sellers and the occasional households who felt they had enough to sell to make the hassle and the fee for renting the space worth it to them. The different relation to the recuperation of value in a monetary economy, the different relation of self and community, was very powerful for me, and I wanted to bring the garage sale model to an art space, where questions of worth and value, use and exchange, are both glaringly placed front and center and completely repressed and denied. I wanted the work to engage the visitors not as observers but as participants enacting the impulse to possess things and to find a bargain. And for whom the meta-level questions of the sale, I predicted, would be obscure despite the location in an art gallery, the inclusion of a slide show, and a tape recorder playing a meditation on value in capitalism and on questions of community.
What was your situation as an artist at that time?
I had considered myself an artist for as long as I could remember, and making and exhibiting work here and there, but at that time I was a grad student going for an MFA at UCSD. I was also pretty straightforwardly poor, a woman with a baby. Because of the nature of art-world hierarchies and forms of value-tagging, I was known then as a California artist. (Now we have fully converted from regional to age grouping to determine and signal an artist's market ranking.)
Did you sell your personal belongings or those of others? How did you collect all the goods for sale?
The sale itself was intended to call attention to the valuation systems at play in the art world. To cover the question of portraiture—the picture of the self and its accoutrements as set forth in the objects on view—I wanted to shade somewhat the matters of ownership. The basic assumption at any garage sale is that the goods sold are yours, unless there is reason to think otherwise. I solicited items from my friends and co-workers, mostly women, and put them out for sale. The shoes and clothes were obviously of different sizes. But more importantly, I included personal letters and notes on lovers, old diaphragms, and underwear, and I hung pinups from old issues of the soft-core pornographic magazine Playboy. The setting out for sale of the personal items, especially the letters and my son's baby shoes, elicited shock from some fellow female grad students and other visitors, and it solidified the idea in many viewers' minds that these were the belongings of one woman.
And the first point, the bare fact of holding a sale of "junk" in an art gallery, evoked a blast of opprobrium in the newspaper from a friend of mine who was conveying the opinion of her PhD mentor, Herbert Marcuse, who was also a friend of mine!
The first Garage Sale took place at the "Revelle undergrad library"—as the original poster reads—the grad-student gallery of UCSD, and lasted six days. How should we envision the setting of this work? The second was called Traveling Garage Sale and took place in 1977 at La Mamelle Gallery, San Francisco. What made it "travel"?
The Revelle gallery was a large space in which the visual arts graduate students held art shows and events. It was at the heart of campus at the time, as the library was on the quad. For the San Francisco show, I am fairly sure that La Mamelle invited me to hold the garage sale at their place, on the second floor of the building, so I asked to hold it in their garage instead, which was on the ground floor. I packed up my car and a large car-top carrier and moved everything up there. There was a lot of material! I can't remember if people in San Francisco donated anything to the sale, but it's possible.
Can you describe what people experienced when visiting your work?
The people walking into the building were greeted with ordinary garage-sale signs pointing the way to the sale. When they entered the gallery they stepped into a garage sale mostly like any other garage sale … but with exceptions! The room had modulated lighting: The front area—the front of the "invisible" garage space—was the best-lit area featuring the most desirable goods; from there, moving toward the back of the room, the lighting gradually diminished, and less desirable, less publicly acceptable, more private items were displayed. At the far back, there were empty containers from welfare commodities as well as lingerie and the aforementioned soft-core porn. But there were also private letters and mementos, things like my son's baby shoes that parents were still fetishizing. And a list of old boyfriends. In the midst of that array, a large reel-to-reel tape recorder played the meditation on garage sales and value I'd written, which has carried forward through every staging of this work. And there was a slide carousel of travel and family photos I'd bought at a garage sale held by the heirs of a man who recently died.
How did the environment at the University of California San Diego, where, at that time, Herbert Marcuse was teaching, inform your work as an artist?
UC San Diego was a very aggressive recruiter for the best and the brightest among faculty and students. The 1970s were the high point of the University of California Master Plan of development, and the university was seeking to be the pre-eminent public research and education university in the country. Marcuse, Reinhard Lettau, Fredric Jameson, Anthony Wilden, and others were eminent scholars on faculty, while Lyotard and Edgar Morin were there as visiting faculty. The art department was new and had a whole range of mostly male faculty who all styled themselves as theorists. Cross-disciplinarity was a hallmark of UCSD. There was a highly politicized student population at most of San Diego's colleges and universities—it was a military town—and we held several student strikes and many actions against the war—too many to count. While we were respectful of our professors and more than happy to learn from them, we didn't pay all that much attention to what the faculty might want from us. Instead we answered to the generational insistence on what was important. That attitude was certainly the hallmark among my small group of friends in the art department, most of whom were photographers. But I was also a highly active member of the Women's Liberation Front at UCSD, even before I entered graduate school there. It may be hard to realize today how much the political struggles of the day informed our sense of ourselves as both students and citizens.
During that period, you were exchanging ideas with other like-minded photographers and visual artists—can you say more about your social milieu?
My close friends in San Diego were a group of people—the people I mentioned above—interested in refashioning the discourses of contemporary art by moving away from modernist separation and aestheticism and injecting a different viewpoint, and naturally also changing the art world, one way or another, but in no particular time frame. Our main focus was on photography and text, and inevitably film and video, and on questions not only of production but of distribution. We got together and talked about shows as reported in the art mags, and about films, and of course we were deeply concerned with political events and theories. We wanted to be active both inside and outside the art world and change the discussion. The wider San Diego circle included New York transplants who were teaching at the school, as I've mentioned, and their spouses and friends. Nothing in the San Diego art scene, and not much in the LA museums, was worth paying attention to at the time. Many of my friends were feminist artists such as Laura Silagi and Elly Antin and, up in LA, Suzanne Lacy, Nancy Buchanan, Barbara Smith, Faith Wilding. Also, the young women at the Feminist Art Program at Cal Arts, and later at the Women's Building, such as Laurel Klick and Cheri Gaulke. I followed their work avidly, as well as the work in some of the artists' spaces there. Of course, there were artists elsewhere, around the world, male and female, individuals and groups, whose work was of great interest to us.
How would you characterize the work you made in parallel to the Garage Sale project?
Around this time, my work consisted of postcard novels, antiwar montages, feminist montages, stuffed sculpture (these were also feminist works), performances such as Vital Statistics of a Citizen, Simply Obtained, and others. At the same time I was doing so-called straight photography. And all the while, I was still making large, unstretched Abstract Expressionist canvases, oddly enough!
Which particular artist projects were influential to your practice in that era? Did you ever visit Claes Oldenburg's Store in 1961 in New York's Lower East Side, or the Happenings at the Reuben gallery? Later, during your time on the West Coast, I believe you participated in a work by Allan Kaprow.
I knew about Oldenburg's store but I was just a teenager then and wouldn't have had the courage to go find it on my own, and as a Brooklyn kid, I certainly did not imagine that I was entitled to go to commercial galleries. I spent my art-viewing times mostly in museums—primarily MoMA. And If you passed through a certain small door, you were in the Whitney Museum! I was fortunate enough to meet Allan Kaprow in the New York living room of David and Ellie Antin, my mentors, and I knew him in California, but I didn't participate in any of his works. I was ignorant enough not to realize for quite a few years that he was the mentor and literally the teacher of my feminist performance-artist buddies at Cal Arts in LA!
Your work spanned across various formats, but your practice clearly focused on the use of circulating media—magazines and postcards, for instance—in connection with everyday materials from language to clothes.
I didn't want to stick with studio-based media alone. I wanted to step out in to the world, but also to continue to work with formal issues. I did work with objects, and I drew a lot, including life drawing. But I was increasingly concerned with questions of communication and distribution, and the use of public media was one route to a wider dissemination that bypassed artworld gatekeepers. Postcards are less public, in a liminal space between public and private, but they enabled a wider reach from a base in the backwater that was San Diego. But these formats are also an efficient way to use classical, that is, mid-century, communication theory: sender-message-channel-receiver. I wanted to use items, like ordinary clothing, that would ask viewers—women viewers in particular—to focus on questions of identification and disidentification: "This is me"/ "This is not me." These questions, for me, were a result of the war in Vietnam, in which we were targeting and killing people who neither looked like us nor lived like us. That issue was important not only to the antiwar photomontages, with Vietnamese in Western—style living spaces, but also to works like Some Women Prisoners of the Infamous Thieu Regime in the Poulo Condore Prison in South Vietnam, in which castoff women's clothing was stamped with the name, date of birth, and number of such prisoners, and also to the photo-audio work She Sees in Herself a New Woman Every Day.
The Garage Sale is your first "performance-installation." In your performances, as in your video work, you do not shy away from using a burlesque style and you often make us laugh, even about tough subjects. Can you tell us more about how you came to use deadpan wit in your work?
I am not sure that this work is my first performance-installation, since we resolutely neglected to document our performances. I think I may have done other lower-level, hit-and-run, anonymous works. I like to use low forms, like comedy. The remark, "If you want to tell people the truth, make them laugh; otherwise they'll kill you," is attributed to Oscar Wilde, and it's not a bad guide for unpopular opinions. Laughter can often bypass people's defenses. Ridicule and burlesque are often used to denigrate and to silence women, who are not permitted a response. Women comics used to collude in this by telling jokes about themselves and other women. It is when an edge is reintroduced into women-told jokes and burlesque that a revolutionary potential emerges. I tried to use this tactic, giving laughter an uncomfortable edge in the video Semiotics of the Kitchen, where the woman on screen may be an object worthy of ridicule but somehow presents an insurrectionary undercurrent. I keep returning to the basic realization that I am a New York Jew, and a vaudevillian "shtick" comes naturally to us as raconteurs.
How did you come to use such a diversity of material and media that would hardly be recognizable as your "artistic signature" and that—at least at the time—were not acknowledged by museums or the art market in general?
I just could never bring myself to put together some art-making strategy that might affect things like art-world recognition. I always try to choose a mode of production, expression, and transmission that best suits what I am interested in conveying. I like the idea of thumbing my nose at medium-bound formalism, and although I am not one of the champions of "deskilling," I have always characterized my general mode as "as if": doing work that is in effect a sketch for how one might do a serious work on the matter at hand. It is meant to say to other artists and to the audience: "This is easy; why not try this too?"
It seems that you are interested in constructing a public for your work. When did you start interacting with audience members, transforming them from spectators into participants?
What interested me about performance was precisely the rawness of stepping out from behind the proscenium arch, standing among and sharing breath with people who came to see and be part of the work. As a kid I was very impressed with the Living Theatre's presentation of European experimental works in which the separation of audience and actor is blurred or plainly transgressed. And I was coming of age in New York just after the invention of Happenings and Fluxus events, in which artists abandoned the studio for a quasi-theatrical or "process" space. I was also very interested in the Brechtian Lehrstücke, intended to activate the audience and impel them to make decisions concerning public questions. I've written articles on the distinctions between audience and public, and the difference in reception and action each idea conveys—and how they have shifted over time. Construction of an audience, an ad hoc community of sorts, was a central task of the exhibition cycle If You Lived Here... that I organized at the Dia Art Foundation much later, in 1989. There it was crucial to create an informal network of people interested in the subjects at hand, namely, housing, homelessness, architecture, urbanism, and in general the right to decent housing. The base of organizing was among artists and others in the art word, as well as film and videomakers, poets, and writers, but a much larger network of activists, advocates, homeless people, and related service providers, representatives, and academics was also temporarily assembled, all to contribute art works, displays, and, for the public forums, ideas and discussion.
In your work—including Garage Sale—you've established a practice of performance art in which your live appearances are not particularly expressionistic and often employ media such as video to mediate the live character of the work.
For most of us, cool was more interesting than hot or expressionist. And remember the element of humor you mentioned, that vaudeville delivery! I am not at all sure the performances of my friends, the LA feminists, including their video performances, could be characterized as expressionist either; once you are on camera, the emotive quotient had better drop if you don't want to be revolting or inadevertently self-parodying! I don't want to be seen as a scenery chewer or an emotional type in my performance work. But I was anti-Artaud, pro-Brecht from the beginning—I am a New York rationalist! I like to suggest that first-person works are really about someone else and vice versa, that third-person works are really autobiographical. In other words, I like to give myself permission to lie, a permission not usually accorded to artists. Artists can create fictions, perhaps, but not tell lies, and I wanted to mess up that distinction, as in the first-person postcard novels I sent out in the mid-1970s. In the late 1960s and early 1970s, a fair number of women were creating personas, from Elly Antin to Martha Wilson to Lynn Hershman, among others, all having come to the realization that a female identity was a form of masquerade, a construction. This insight was provoked in part by Simone de Beauvoir's The Second Sex, but also inevitably by what might be considered the least persuasive elements of Freudian psychoanalysis (Freudianism had a serious hold on American thinking then), and also by the gay community's interest in masquerade and female impersonation.
On the occasion of your first retrospective in the late 1990s, Positions in the Life World, Garage Sale was again staged. Over the years it seems the project becomes a portrait of its own because, on the one hand, the items for sale consist of what has been collected but not sold in previous iterations of the project, and on the other hand, the context shifts with the various performances. We can see it as a collective portrait of all people that have contributed to it, but also as a portrait of you and the larger socio-economic context.
It's amusing to see how the art world frames works: legitimacy is derived through a work's origin, provenance, and trajectory from its first iteration to the last, particularly by artists older than, say, thirty or thirty-five. I like your idea of the history of the project as existing in the collectivity of participation, a history that does not single me out specially. As I suggested earlier, from the first sale I was careful to fudge the question of whether the goods for sale were "mine" (belonging either to me, the artist, or me, the persona, the quasi-hippie), using the simplest means, such as grouping together clothes and shoes of widely different sizes.
In one of the early iterations of the Garage Sale, there was a blackboard inscribed with the question: "What if the garage sale is a metaphor for the mind?" This "mind" seems to have traveled through the many stagings of this project.
A blackboard with that phrase, suggesting another dimension of the work, recurs in most of the project's iterations. It is, if nothing else, a reminder that there is an artist doing this sale, and that there is a symbolic or metalevel of reading the work. The sign goes together with the differential lighting program, in which goods in the gloom, at the back, are somehow racy, hot, or in other ways shameful, insofar as they attest to the low economic status or difficult economic circumstances of the seller. It is also meant to evoke the idea that the reading of the life-world, and of the objects that populate it, is beyond the reach of our transactions in public, and one map of consciousness and unconsciousness would spatialize our self-understanding and its lack.
How would you like to situate the project today? What does it mean to stage the performance at MoMA in the large, and in many ways, powerful atrium? What does it mean to do so now, soon after a catastrophic storm that could only highlight the huge differential in income and resources in New York and environs?
Bringing a work that was an outlier in terms of its initial reception and location to what might, not unreasonably, be considered the center of the New York art world—and perhaps of a wider segment of the Western art world—casts into sharp relief questions of value, worth, and work, as well as the issue of the market-based art world and its valuation of art objects. One might well imagine that the walls of the MoMA are lined with money, but a visitor could hardly be as aware of the powerful monetization of the museum objects as one is of the more down-to-earth prices of the items that are the subject of crass dickering at a lowly garage sale. I want to evoke the same desire for possession that all people who hold garage sales aspire to, which means I want to offer satisfaction but also a double consciousness—or double unconsciousness—about the questions I hope to raise.
These questions of labor, value, and recuperation are also concerned with the relative share of private and public resources that people can call upon in a situation of sustained economic vulnerability. I have pointed out that the work began during the oil shock of 1973, when ordinary people of modest means were under great economic pressure in a declining economy. I realized then that the institution of the garage sale was a way for people—householders in general, but mostly women— to keep in the swim, so to speak, of the economy, to preserve their ability and that of their families to participate in the markets of daily life. Secondarily, I realized that the institutionalized garage sale either stood beside or eclipsed other forms of communal sharing and charity.
This exhibition hopes to provoke precisely these questions of sharing, desiring, valuing, circulating commodities, and human worth. The catastrophic storm that has ravaged our region, the second in a year, has highlighted that although individuals, communities, and government agencies have stepped forward to ameliorate the situation of those unable to recover on their own, in our reality of growing inequality none of the comfortable choices reside at the lower end of the economic scale.
There is a misperception that natural disasters are great levelers, that they affect rich and poor people equally, but that isn't the case. Catastrophes are born in the interactions between the event itself—weather, say, or an earthquake—and social forms and the built environment. Its effects will depend greatly on the way a society is organized. The New York Times informed us earlier this fall that of all the states in the US, New York has the most unequal income distribution, on par with countries like Gambia, Swaziland, and Costa Rica. Some people in evacuation zones were able to pack up, drive away, and rent a hotel room or escape to a second home, exactly as we saw in New Orleans and the Gulf Coast during Hurricane Katrina in 2006. Here as there, the poorest and the elderly are not only the most vulnerable going in, they remain the last served in the storm's aftermath—even to the point of neglect—and are the least reported on. The New York Times, reviving a phrase I last saw in the 1960s, referred to them as "pockets of misery."
As we are discussing this, more than two weeks after the storm, there are low-lying neighborhoods in New York City that have not yet had their electricity restored or been visited by federal relief services; instead self-organized groups like Occupy Sandy have stepped forward and picked up the burden of care. I saw a newspaper photo of these volunteers providing food to FEMA workers. A man in Coney Island was telling the BBC yesterday that there is not a single business or food store open in the area.
Here's where rather than holding a garage sale for personal or familial gain, in the immediacy of the moment, people donate goods and more importantly services and, if possible, money directly to those in dire need. Face-to-face communities reveal themselves or are newly formed. Everyone has observed the way that fences fall and affinity groups come together under conditions of adversity.