retrospective
of the actress's films nears a close (concluding with a screening of the Museum's newly preserved print of
Orphans of the Storm
on
Monday, December 13
), I would like to pay particular attention to the writings of three of Gish's friends, colleagues, and critics—Anita Loos, Andrew Sarris, and Mike Kaplan—who offered the kind of personal insights that aren't often evident among all of the written discussion of her career.
Read more
Much has been written about Lillian Gish over the course of her 75-year career, and as the Museum's
The inspiration for MoMA's upcoming Lillian Gish retrospective came about during the planning of the publication Modern Women: Women Artists at The Museum of Modern Art. When I was asked to write an essay on a film artist for the book, actress Lillian Gish quickly came to mind. Not only is she integral to the history of film, but also to the history of film collecting at MoMA. She was an early champion of the Department of Film's preservation efforts, and she was instrumental in getting her frequent collaborator D. W. Griffith to give his films to the Museum. Read more
In conjuction with the Museum's Modern Women initiative, PopRally presents An Evening with the Raincoats at MoMA on Saturday, November 20. Today's guest blogger, Kathleen Hanna—founding member of Bikini Kill, co-creator of the zine Riot Grrrl, and lead singer of the dance-punk band Le Tigre—will DJ the event.
In 1990 I was given a mixtape with The Raincoats' "Fairytale in the Supermarket" on it. It was the first time I'd ever heard them, and to this day it remains one of my favorite songs. As a 20-year-old who had just starting touring with a band, the song opened up a whole new world to me—one where I didn't have to play guitar solos or make music the same way my male peers did.
Read more
One of the key experimental filmmakers of her generation, Barbara Hammer (American, b. 1939) is renowned for creating the earliest and most extensive body of avant-garde films on lesbian life and sexuality. In this fascinating video interview, she talks about her career as a filmmaker and the development of feminist and queer filmmaking over the last thirty years. Read more
Here's a fun update: Counter Space Curator Juliet Kinchin recently made an appearance on The Martha Stewart Show! The episode that aired on Wednesday, October 6, was dedicated to modern kitchens and kitchen organization, and Juliet starred in a seven-minute segment to discuss the exhibition, with a focus on the Frankfurt Kitchen. You can watch the video on Martha's website, and read her review of the show in the Observer. Read more
For the publication Modern Women: Women Artists at The Museum of Modern Art, Michelle Elligott, the Museum Archivist, contributed a wonderful essay entitled "Modern Women: A Partial History," a kind of lexicon comprising historical entries on and capsule biographies of selected noteworthy women throughout the Museum's history. In this video, she discusses some of these women and their impact both at MoMA and within the museum field in general. Read more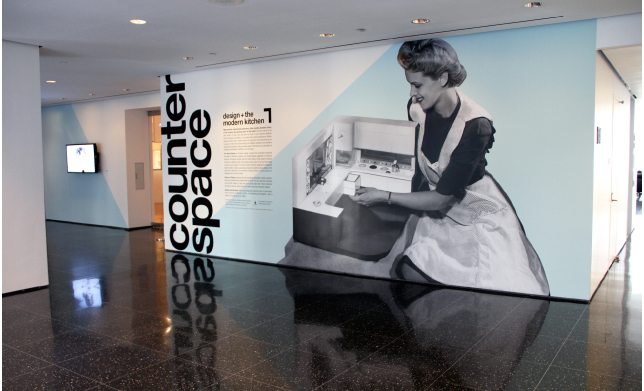 I find that the process of many design jobs is a journey between two extremes, both of which are usually to be avoided, but if you strike the right balance, you end up in some interesting places. Finding the graphic identity for the exhibition Counter Space: Design and the Modern Kitchen was a classic example. Read more
If you have been to visit Counter Space here at the Museum, then you have already met this woman. We do not know her name—though we'd welcome any information out there!—but her image, blown up from floor to ceiling, provided a perfect photo-mural for our title wall. Read more