TAG: MEET ME AT MoMA
Posts tagged 'Meet Me at MoMA'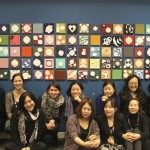 As New Yorkers, we like to think we have a handle on public transit. The local, the express, the muttering person you try and steer clear of—we're unfazed. But tackling the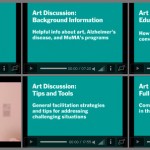 I've racked up a lot of frequent flier miles working with The MoMA Alzheimer's Project. My colleagues and I have had the great pleasure of traveling to places like Amsterdam, Tokyo, and Alexandria, Louisiana (population: 48,000) to facilitate training workshops on how to use art to engage individuals with Alzheimer's disease. Read more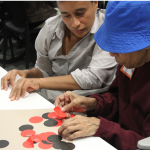 It's a universal thing: September is a busy month for students and educators of all kinds, as the relaxed pace of summer makes way for the back-to-school rush. We're no exception here in MoMA's Department of Education. Just last week, for example, we kicked off our season of arts engagement programming for people with dementia and their caregivers. Read more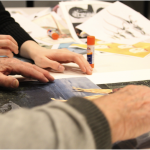 I'm not an artist. If someone set a blank canvas and some paint down in front of me with the instructions to "go at it," I'd have a hard time. It's intimidating! Read more
The Department of Education has a long history of working with an array of audiences in its mission to make the collection accessible to people of all abilities, backgrounds, and ages. Over the years we've come to recognize what a major part of the Museum audience senior citizens are—which makes sense since, according to statistics from the American Association of Retired Persons, individuals age 65 and over constitute one of the fastest growing segments of the U.S. population. Read more
When approached by Francesca Rosenberg to design the Meet Me publication for MoMA's Access Programs, we were given three criteria:
1. Must use hot-pink color. (I'm not kidding. If you know Francesca Rosenberg, MoMA's Director of Access and Community Programs, you would know that this is a legitimate request.)
2. Don't make it look like a guidebook (even though, in its essence, it is a guidebook).
3. Make the content accessible to three diverse audiences: museum professionals, care organizations, and individual families.
The unusual color request was just one sign of how MoMA's Access Program educators were contributing to an ideological shift in the way both institutions and individuals think about Alzheimer's disease. This was not going to be just another black-and-gray manual. The intention was to create a book that was uplifting in both function and form, focusing on the fact that life can still be meaningful and joyful for these families, a book that embodies the mission and focus of the Meet Me at MoMA program. This was going to be a book about inspiring meaningful interactive experiences, making connections between people and art, and making art accessible. It would be anything but a guidebook. Read more
One of the reasons I enjoy working in Access Programs at MoMA is that we get to experience things with our program participants that other visitors would like to do, but can't. For instance, visitors who are blind and partially sighted have the opportunity to touch sculptures on display in the galleries and in the Sculpture Garden. Who wouldn't love to get their hands on an original bronze bust by Picasso or Matisse? Another bonus for Access Programs participants is that many of our programs are scheduled on Tuesdays, when the Museum is otherwise closed to the public. Ah, to be in a room with Vincent van Gogh's The Starry Night and not have to dodge the crowds!
This is exactly the situation when we hold our monthly Meet Me at MoMA program, an interactive gallery tour for people with dementia and their care partners. During these ninety-minute sessions, the Museum becomes theirs, and the quiet galleries are the perfect setting for MoMA's educators to lead the individuals in the group in sharing their thoughts and interpretations of artworks from MoMA's collection or special exhibitions. The stimulation and socialization that are fundamental to the MoMA program not only help to improve behavior and mood, but also dramatically improve quality of life. I have experienced numerous situations in which people come to MoMA in a non-communicative, anxious, or withdrawn state. For many, a transformation occurs in the galleries. Art can tap into old memories. It was in front of Marc Chagall's I and the Village that a man with Alzheimer's disease shared a story about the cemetery where his mother is buried, information that his wife had never been aware of. Piet Mondrian's Broadway Boogie Woogie led another man to talk about his days as a single man enjoying the nightclubs in New York in the 1940s—just like Mondrian himself. Other comments reveal how the art stimulates the participants in the here and now. For example, a woman with dementia spoke insightfully about how the colors and light in Claude Monet's Water Lilies were inviting and joyful to her. After leading many art programs with people with dementia, I have seen firsthand that satisfying emotional and intellectual experiences are possible on both sides of the care partnership.
We wanted to share these meaningful experiences and results with a broader audience, so Museum educators worked with Graphic Design and Digital Media staff to develop a publication and website that would reflect the experience of the Meet Me at MoMA program. These resources also provide additional information in the form of interviews with experts in the fields of art, aging, and Alzheimer's; findings from our evidence-based research study; and guides for developing and implementing art programs in a variety of settings.
I encourage you to take a look at the site!
If you are interested in reproducing images from The Museum of Modern Art web site, please visit the Image Permissions page (www.moma.org/permissions). For additional information about using content from MoMA.org, please visit About this Site (www.moma.org/site).
© Copyright 2016 The Museum of Modern Art