Posts tagged 'Department of Painting and Sculpture'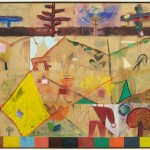 In this column I have often discussed the efforts made by the Department of Painting and Sculpture to circulate works in our collection galleries as frequently as we can manage, thereby showing the broadest possible range of our extensive holdings. All of our works are historically significant in their own way; still, we do recognize that there are dedicated audiences for certain landmark acquisitions made by the Museum, and so there are a few works that remain on view indefinitely. Les Demoiselles D'Avignon (1907) by Pablo Picasso, The Starry Night (1889) by Vincent van Gogh, and Salvador Dalí's The Persistence of Memory (1931) certainly all fall into this category.
On one of my recent early-morning checks of the fifth-floor collection galleries—a daily duty of the curatorial staff, to spot any oddities—an elusive, visceral feeling gave me pause. It took me a moment to recognize that it was prompted by the wall color, which, as I moved from the European Expressionist gallery to the adjacent Matisse room, had changed from a light grey to what appeared to be a bright white. This color change is subtle enough to likely go unnoticed by many visitors, but deserves a brief moment of attention.