TAG: COMMUNITY AND ACCESS PROGRAMS
Posts tagged 'Community and Access Programs'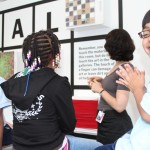 At MoMA we strive to enable all visitors to find meaning and pleasure in modern and contemporary art. This includes people who are blind or have low vision, who are able to enjoy the Museum's collection and special exhibitions via touch and visual description through Touch Tours, via MoMA Audio: Visual Descriptions, and in our monthly Art inSight program.
In the free Art inSight program—which takes place on Tuesdays when the Museum is closed to the public, so as to avoid the crowds—specially trained MoMA educators share detailed visual descriptions of works of art. By providing vivid descriptions of key visual elements, the educator aims to paint a picture in the mind's eye, engaging a viewer who is blind or has low vision. These visual elements include the standard wall-label information, a general overview of the work itself (including size subject, form, and color), and details about the artist's technique. After program participants are given the chance to ask questions to further refine their visual understanding of the work, the educator shares art-historical information about the work and facilitates a dialogue among the group, eliciting their thoughts and reactions.
Last month Art inSight focused on MoMA's Cindy Sherman retrospective. Once in the exhibition, the group took seats in front of Sherman's Untitled #479 (1975) (above). MoMA educator Joan Pachner described Sherman in her guise, and one participant commented that the subject of transforming identity was "easy to relate to." Another person with a guide dog said that each picture is like a short story. When Joan asked the group why they thought Sherman chooses not to title her works, someone said it was because "she wants us to use our imaginations." When viewing the Untitled Film Stills, the group spoke of the experience of living in New York, where each neighborhood has a distinct feel, story, and identity.
Joan gave the participants time to get up close to the works to use any residual vision they might have to look more closely. In the gallery with Sherman's "centerfolds" series, after looking at the photo of a sad girl on the couch staring at the phone, someone asked, "Why doesn't she pick up the phone and just call HIM?" Everyone laughed.
The group was running out of time, so we had to wrap up. In front of the elevators, a woman thanked Joan, telling her, "With your guidance, I have a new appreciation for the show." If the encouragement of an ever-deeper understanding and enjoyment of modern and contemporary art is central to MoMA's mission, then the goal of this program is to enhance and enrich that experience for a wider audience. One need not have eyesight to see. For proof, spend a few minutes with this video (with or without audio description).
If you or anyone you know might be interested in joining us for the Art inSight program, visit our website or contact us at accessprograms@moma.org.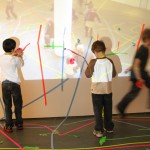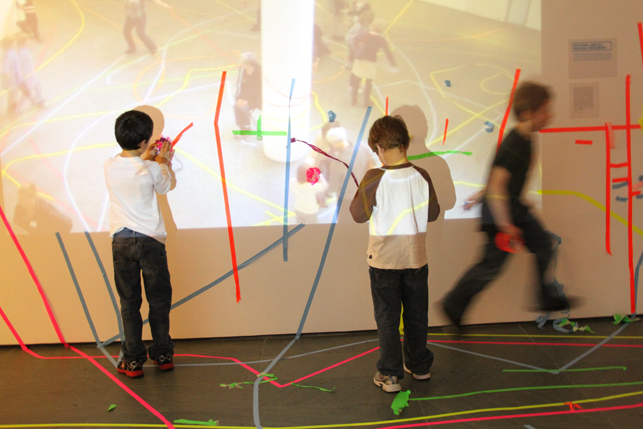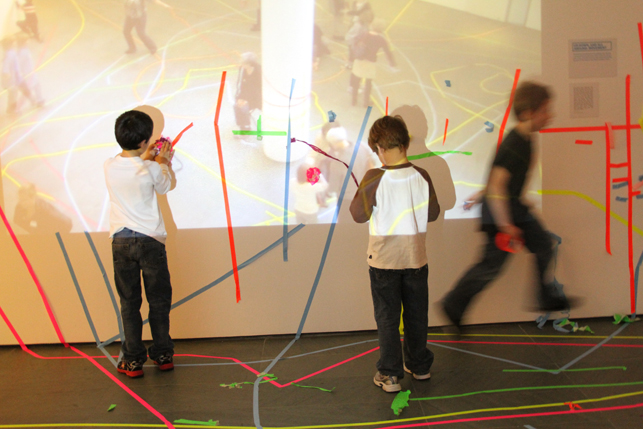 In a previous post I wrote about our Create Ability program for children and adults with learning or developmental disabilities, and the annual exhibition of work produced by these participants that was about to be installed. Read more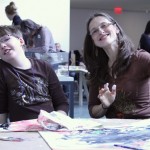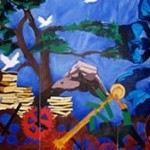 My colleague Lauren Adelman stopped by the reference desk a while back. "What do you have on murals?" she asked. I knew this would be interesting. Read more
The Graphic Design and Digital Media departments work on the same floor in the MoMA offices, and though we may disagree on how many overhead fluorescent lights should be on (the correct answer is zero), we all enjoy getting the chance to work together. It's not often that we get the chance to work on a project from its inception, so the Meet Me website was a unique opportunity.
Last week, Ingrid Chou explained the process of creating the lovely Meet Me publication. For the website, we worked with Ingrid and designer Sam Sherman (as well as the Education Department) to translate elements from the publication into a digital format. We also wanted to take advantage of some of the new features and frameworks we created for the MoMA.org redesign. Read more
If you are interested in reproducing images from The Museum of Modern Art web site, please visit the Image Permissions page (www.moma.org/permissions). For additional information about using content from MoMA.org, please visit About this Site (www.moma.org/site).
© Copyright 2011 The Museum of Modern Art