Zone 4: Oyster-Tecture
Team Leader: Kate Orff
SCAPE / LANDSCAPE ARCHITECTURE PLLC
Site: Gowanus Canal and Buttermilk Channel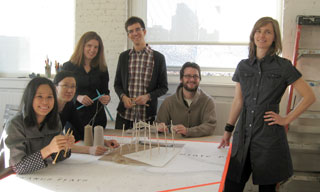 Firm Profile
SCAPE is a design-driven landscape architecture and urban design studio based in New York. It is a certified WBE with a LEED-accredited professional on staff. It shares a commitment to innovative design and construction of the urban landscape. Its goal is to create and organize dialogue about the built environment, to refine the definition of the public sector to include natural processes and wildlife habitat, and to cultivate an ethos of civic participation. Within this expanded mandate, its 'design output' takes many forms: research, teaching, built landscapes, maps, reports and temporary installations.
Urban Ecology
SCAPE's is to create and organize dialogue about the built environment, to refine the definition of the public sector to include natural processes and wildlife habitat, and to cultivate an ethos of civic participation. Within this expanded mandate, our 'design output' takes many forms: research, teaching, writing, built landscapes, websites, maps, documentations, and temporary installations. Ecosystems support life and diversity. Our goal is to connect people to their immediate environment, and design with both the spatial mesh of natural systems and the quality of human habitats in mind. We imagine how the structure and function of nature can inform design decisions at the level of the detail, the site, and bioregion.
Site Design
Our site design philosophy is to magnify each site's unique potential, quality, and character. We work as part of an integrated design team to synthesize building and landscape, and inside with outside to create textured, overlapping spaces, and approach all projects: master plans, roof gardens, plazas, courtyards, campuses, with an expertise in horticultural diversity, an eye for color and form, and experience with the design and implementation of private and public landscapes. We look to incorporate sustainable site design principles such as brownfield remediation, innovative stormwater management, reduction of heat island effect, and reduced site disturbance into every commission.
Strategic Planning
We understand and enhance connections between ecological systems and public infrastructures to create dynamic, textured outdoor spaces, in concert with long-term, phased strategies that will add a layer of cohesion and excitement to the built environment, coordinate this strategy with the goals and aspirations of the client group, and provide the research documents and visual material necessary to generate dialogue on issues while building consensus and collaboration.
Team Bios
Kate Orff (Team Leader, SCAPE)
Kate Orff is a registered landscape architect and As¬sistant Professor at the Columbia University GSAPP. She is the principal and founder of the landscape architec¬ture firm SCAPE. In addition to teaching and practice Kate has lectured around the world on the topic of new paradigms of thinking, col¬laborating and designing for the anthropocene era.
Her work at Columbia focuses on the integration of the design disciplines and the earth sciences. Kate was part of a select team that received an Academic Qual¬ity Fund grant from the Provost, which led to a series of groundbreaking urban ecology studios such as the 'WASTE' studio series, the 'WATER' studio and the 'BIODIVERSITY' studio. These studios brought together engineering students and faculty from the Fu Founda¬tion School of Applied Science, The Earth Engineering Center and the GSAPP to examine targeted ecological and social issues facing New York. In addition to inter¬disciplinary studios, Kate launched the first University-wide seminar to address issues of sustainable develop¬ment and design. Entitled 'Sustainable Futures,' this seminar brings together professors from GSAPP and re¬searchers from the Earth Institute to create a forum for the interdisciplinary exchange of ideas and methodolo¬gies.
Kate is also the founder of the Urban Landscape Lab, an experimental research lab affiliated with GSAPP that focuses on the role of design in the transformation of the joint built-natural environment, and studies ecologi¬cal processes and urban systems as hybrid phenomena through pilot projects, practical strategies, and experi¬ments. The Urban Landscape Lab and MTWTF collabo¬rated on Safari 7, a self-guided tour of urban animal life along New York City's No. 7 subway line. Safari 7 cir¬culates a series of podcasts and maps that explore the complexity, biodiversity, conflicts, and potentials of New York City's ecosystems.
Kate has designed and re¬searched projects ranging from Dunsink Park, a new park on a former landfill in Dublin, Ireland to many local projects in New York City, including portions of the Wil¬liamsburg and Jersey City waterfronts.
SCAPE received the 2008 national ASLA Award, the 2007 NYASLA award, and several other local Art Commission and community awards. SCAPE's work has been published around the world, and has been exhibited in the Seoul, Lisbon, and Hong Kong Bienniales. She has also lectured as part of the evening lecture series at Harvard, and delivered the Lenahan Memorial Lecture at Yale, the Bracken Lecture at Penn State, and the Elwood Lecture at Iowa State.
Ben Abelman (Team Member, SCAPE)
Ben Abelman holds a Master of Science in Architecture and Urban Design degree from Columbia University's Gradu¬ate School of Architecture, Planning and Preservation (2009) and a B.Arch from the Rhode Island School of Design (2004).
While at Columbia, Ben, in collaboration with three oth¬ers, received the Lucille Smyser Lowenfish Memorial Prize for a project that provided a new settlement mor¬phology based on seasonal flooding, water retention and sewage treatment for Dharavi, a slum in Mumbai, India. Ben was also awarded the William Kinne Travel Fellowship from GSAPP to study Japanese stimulus spending during the 1990's, focusing on the non-economic impacts of design employed as a financial mechanism to serve as a critical comparison to The American Recovery and Reinvestment Act of 2009. In spring 2009 Ben was part of a collaboration that received 3rd prize in the student competition "A New Infrastructure: Innovative Transit Solutions for Los Ange¬les," sponsored by SciArch and the Architects Newspa¬per. The project, entitled "Highways Are for Trains," en¬visioned the redevelopment of the LA freeway system as a new public transportation route, linear park and transit oriented development corridor.
Ben is a native of New York City, where he has worked as an architect for Briggs Knowles Architecture and Design, CR Studio and Ogawa Depardon Architects. At these firms he gained an understanding of the intri¬cate building process in New York City and worked on a range of projects from apartment and townhouse retrofits to an elementary school in New Jersey and an NYAIA-award-winning artist space in Red Hook, Brook¬lyn.
Ben's interests in design bridge between architecture, urban planning / design and landscape architecture and seek to find intimate, systematic, and ecologically sound re-uses for urban infrastructure left behind by the Moses era of planning and development.
Alice Feng (Team Member, SCAPE)
Alice Feng holds a Master of Landscape Architecture degree from the Harvard University Graduate School of Design (2007) and Bachelor of Fine Arts degree from Parsons The New School for Design in Communication Design and Motion Graphics (2003). While at the Harvard GSD, Alice was part of a group of selected students that worked with the department chair, Niall Kirkwood, to develop a water management proposal for the Netherlands in anticipation of future increased flooding. The project, titled "Sponge City" was commissioned for the 2nd International Architecture Biennale in Rotterdam, curated by Adriaan Geuze of West 8. Her student work was also included in the Harvard publication Studioworks 12.
From 2007 to 2009 Alice joined the landscape architecture firm Balmori Associates, where she was lead designer for several international competitions and landscape projects. She helped win the firm first prize in the architectural competition for the Amman Performing Arts Center, with landscape design contributions commissioned by Zaha Hadid Architects. Other projects include BBVA Headquarter competition finalist, Spain, in collaboration with Zaha Hadid Architects; Almaty Talgar Village Masterplan, Kazakhstan, in collaboration with Space Group Architects; Multi-Administration City Open Space competition finalist, Korea, in collaboration with Joel Sanders Architect; Duke University Central Campus Masterplan in collaboration with Pelli Clarke Pelli Associates. Alice was also involved in the firms research and grant writing efforts and spearheaded the proposal for a modular rooftop food-production system in collaboration with scientists and fabricators.
Prior professional experience that has helped shape Alice's approach to her work includes the broadcast design departments of Imaginary Forces, Psyop, Stardust and the production department at The National Geographic Magazine.
Her ongoing intellectual pursuits include exploring textiles as a framework for conceptualizing the landscape, and hydroponic systems with their potential use for food production on urban rooftops.
Angela Chen-Mai Soong (Team Member, SCAPE)
Angela Chen-Mai Soong has been involved actively in the fields of landscape architecture and urban design through her education, professional practice and academic work. She received her Master of Landscape Architecture and Regional Planning from the School of De¬sign at University of Pennsylvania in 2007 and M.Arch and Urban Design from the GSAPP at Columbia University 2004. Before coming to the United States to pursue her academic advancement, she re¬ceived her Bachelor of Fine Arts in Landscape Architec¬ture from Fu Jen Catholic University in Taipei, Taiwan.
She was the recipient of several academic awards dur¬ing her studies at Columbia GSAPP and UPenn. For the proposal titled "Post-Global Economic Restructuring in the Asian Pacific: Japan & South Korea", Angela and collaborators were awarded the William Kinne Travel¬ing Fellowship from GSAPP. She has also received the GSAPP Lucille Smyser Lowenfish Memorial Prize for a project titled "Delta Edge BCG" of Bucharest, Romania. In 2006, her studio project in collaboration with others, titled "New Orleans: inhabiting a fluid terrain – Build¬ing Sediment" entered the High Density on the High Ground Competition and was exhibited at the Ogden Museum of Southern Art at New Orleans. Later that project was awarded the 2006 National ASLA General Design Award of Honor and was published in Via: Oc¬cupation and Paisajes en Transformacion in the United States and Spain.
From 2007 to 2009, Angela joined the landscape ar¬chitecture firm Balmori Associates, where she was the lead designer and coordinator for several large-scale master plans, competitions and landscape design proj¬ects. Projects included Shanghai Bund Waterfront Redevelopment competition with Beyer Blinder Belle Architects; BBVA Headquarter Madrid competition with Pritzker Prize winner Zaha Hadid Architects; Birnbeck Island competition in UK with Work Architecture Com¬pany; Sanya Phoenix Island with MAD; Tianjin Library masterplan with Pelli Clarke Pelli Architects in China. Throughout the period with Balmori, she strove to inte¬grate innovative sustainability systems and patterns of use within an overarching sense of place.
Angela currently holds the position of Adjunct Assistant Professor at Columbia University GSAPP where she co-teaches the Urban Design studio for post-professional level graduate students since Fall 2008. The studio chal¬lenges traditional modes of designing infrastructure, architecture and landscape independently, and poses critical questions about ways in which to create a viable and sustainable regional environment. Besides prac¬ticing in New York, she also co-founded Archipelagos with partner Manolo F. Ufer, a multi-disciplinary design firm that investigates and develops original operative techniques relating to contemporary global urban condi¬tions. The office is now based in Monterrey, Mexico and is working on the construction of a single-family residence "Ecoscopic House" that has been featured in numerous publications.
Her expertise in landscape and urban design involves conceptual development and strategic planning, critical¬ly responding to larger social, political, cultural, ecologi¬cal and economic issues and finds potential in synchro¬nization of different scales and habitats.
Gena Wirth (Team Member, SCAPE)
Gena Wirth holds a Master of Landscape Architecture and a Master of Urban Planning from the Harvard Uni¬versity Graduate School of Design (2009) and a Bach¬elor of Science Degree in Landscape Horticulture from the University of Delaware (2005). She was awarded the Charles Eliot Traveling Fellowship in 2009 by the Harvard GSD Department of Landscape Architecture for her proposal "Engineering Ecology: Territorial Infrastructure of the Colorado River" where she will explore the Colorado River as a mega-site of urban in¬frastructure and ecological controversy where human-animal-plant relationships are continually destroyed, simulated, and created.
Gena works on projects that operate between the fields of landscape architecture, urban design, and urban plan¬ning, and explored this approach during her time at the GSD as a research assistant for Associate Professor Alan Berger at PREX, The Project for Reclamation Excel¬lence at MIT. There she worked on the research initia¬tive Networks, where she and her fellow teammates developed a series of mappings documenting the inter¬actions between commodity flows, urbanization, and the infrastructure of the American landscape, portions of which were published in the January 2008 issue of Landscape Journal.
Gena seeks to integrate scientific research into her de¬sign process; during her time at PREX she coordinated, designed, and fabricated a fluid mechanics treatment wetland experiment in direct collaboration with Profes¬sor Heidi Nepf, Ph.D. and Ph.D. candidate Jeff Rominger at the Nepf Environmental Fluid Mechanics Lab at MIT, comparing treatment efficacy and hydraulic residence time between three different formal variations of a treatment wetland prototype.
Gena has worked at Hargreaves Associates, PREX, Michael Van Valkenburgh and Associates, Inc., Andrew C. Durham and Assoc. Landscape Architecture, Longwood Gardens, Lotusland Botanical Gardens, the Mt. Cuba Center for the Study of Piedmont Flora, and most recently The Urban Landscape Lab, creating exhibition content for the Safari 7 Reading Room project, a self-guided tour of urban animal life along New York City's No. 7 subway line.
Steven Garcia (Team Member, SCAPE)
Steven Garcia holds an M.Arch from the Columbia University Graduate School of Architecture, Planning, and Preservation (2009) and a Bachelor of Arts degree in Sociology/Urban Studies from the University of Portland (2000).
At Columbia, Steven co-developed an independent research program focusing on formal optimization strategies for integrated solar, water, and structural systems of an active skin designed for rooftop greenhousing, establishing breakthroughs in automated software workflows as the first in a series of ongoing studies into dynamic software methodologies, collected under the title Approaching Convergence.
Steven operates across the continuum of design, with professional works ranging in scale from transportation planning to interior design, academic and research works in automated computational strategies and sustainable food systems, teaching in architecture and landscape architecture, and collaboration on exhibitions local to New York City and international.
.
Currently, Steven is a Lecturer in the Department of Landscape Architecture at the University of Pennsylvania School of Design, and teaches Visual Studies seminars in Architecture and assists in design studio at Columbia University GSAPP. He has collaborated on exhibition design and fabrication with KBAS, Philadelphia, and Faiscas.org, New York + Rio de Janeiro, and is a research associate of the Urban Landscape Lab, most recently coordinating digital fabrication for the Safari 7 Reading Room project.
In addition to his teaching responsibilities, Steven has served as a guest design critic at Columbia University GSAPP in the M.ARCH, AAD, + Introduction to Architecture programs, the University of Pennsylvania School of Design, and the Pratt Institute School of Architecture.