Zone 3: New Aqueous City: A Zoning Ordinance for a Regional Metropolis
Team Leaders: Eric Bunge, Mimi Hoang (nARCHITECTS)
Site: Sunset Park, Bay Ridge and Staten Island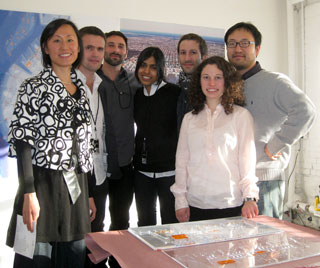 Firm Profile
n, va"ri*a*ble: "A quantity which admits an infinite number of values in the same expression."
nARCHITECTS was founded in New York City in 1999 by partners Eric Bunge (b. Montreal, Canada) and Mimi Hoang (b. Saigon, Vietnam). The variety in their body of work demonstrates the firm's interest in variability itself. In the design of buildings, interiors, ephemeral structures and public urban spaces they aim to create work that resonates with their user's needs and those of culture at large. Design innovation and new conceptual frameworks are broadly sited within cultural, environmental and technical contexts. nARCHITECTS aims for maximum effect with an economy of conceptual and material means and a positive impact on the environment.
The firm's award winning projects include the bamboo Canopy for MoMA/P.S.1 (2004), the ephemeral pavilion Windshape in Lacoste France (2006), the seven storey Switch Building in Manhattan (2004-7), Endless Table – an exhibition of Frederick Kiesler's drawings at The Drawing Center (2007), and several projects scheduled to begin construction in 2010 including Ellicott Park – a new 3,300 foot long linear park in Buffalo, and new facades for the 300,000sf ABC Dbayeh department store in Beirut. The firm also designs commercial and residential projects, including the 10,000sf Ordos 100 Villa-Villa in Inner Mongolia, China, and an addition and green roof for a brownstone in a Brooklyn Landmark District.
nARCHITECTS is one of 24 firms retained by NYC's DDC for the Design Excellence Program, for which they are working on the Betty Shabbazz Health Center in East New York and a rehabilitation of the DOT's maintenance and repair center at Harper Street Yard in Queens, NY. The firm was also recently retained by the New York City Parks Department as one of 8 pre-qualified architecture firms. In addition to working with these city agencies, nARCHITECTS is working with the City of Paris on a "Digital Hall" for a public square in Porte de Montreuil, Paris.
nARCHITECTS' work has been exhibited internationally, most recently in the Seoul Design Olympiad and the biennales of Gwangju and Hong Kong. The firm's projects have been published in over 15 languages, including the monograph "DD 29: nARCHITECTS / Eric Bunge & Mimi Hoang, 2000-2008". Recent awards include AIA Design Honor Awards (2007, 2005), AIA Building Type Merit Award (2008), a NYSCA Award (2007), The Architectural League of New York's Emerging Voices (2006), an AR+D Mention (2006), Architectural Record's Design Vanguard (2004), the MoMA/P.S.1 Young Architects Program (2004), and NYFA grants (Lily Auchincloss Fellows 2008, and 2002).
Team Bios
Eric Bunge (Team Leader, nARCHITECTS) is a registered Architect in New York State. Eric received a Master of Architecture from the Harvard Graduate School of Design in 1996 and a Bachelor of Architecture from McGill University in 1991. He teaches graduate design studios at Columbia University GSAPP, and has taught at Yale University, Harvard University GSD, Parsons The New School for Design, R.I.S.D., Barnard College, University of California at Berkeley, and University of Toronto. Prior to co-founding nARCHITECTS in 1999, he trained in Montreal, London, Calcutta, Paris, Boston, and New York. Bunge is the recipient of the 2005 Canadian Professional Rome Prize.
Mimi Hoang (Team Leader, nARCHITECTS) is a registered architect in New York State. Mimi received a Master of Architecture from Harvard Graduate School of Design in 1998, and a Bachelor of Science in Architecture from M.I.T. in 1993. She teaches graduate design studios at Yale University and Columbia University GSAPP, and has taught at Harvard University GSD and University of California at Berkeley. Prior to co-founding nARCHITECTS in 1999, she trained in New York, Boston, Montreal, Chicago, and Amsterdam.
Julia Chapman (Team Member) graduated summa cum laude from Princeton University in June 2009, with a B.A. in Architecture. She received the Senior Thesis Award from the Princeton School of Architecture and the Andre Maman Senior Thesis Prize from the Department of French and Italian. Julia was granted the Joseph Sanford Shanley '17 Award in Architecture for travel to Europe to pursue an independent project. Julia began working at nARCHITECTS in June 2009.
Seung Teak Lee (Team Member) received his Master of Architecture from Harvard Graduate School of Design after graduating from Korea University. He currently works at nARCHITECTS, and has previously worked at System-lab Architect in Seoul, Korea and Herzog & de Meuron in Basel, Switzerland. He has been involved in interdisciplinary projects in fields ranging from architecture to the visual arts and the manufacturing industry.
Seung Teak's work focuses on the specialization of space design and fabrication systems for projects of various scales ranging from small residential homes to urban design and development. He has won awards in several international design competitions due to his proven capacity to integrate social and cultural discourses into architectural design. Seung Teak was the recipient of the Harvard GSD Architectural Department Faculty Design Award 2009 and was also a finalist for the SOM architecture and urban traveling fellowship. He was the project leader of the Harvard GSD team invited to produce a 'REST BOX' for the Gwangju Design Biennale 2009.
Noah Z. Levy (Team Member) holds a BA in Cultural Anthropology from the University of California at Santa Cruz, and a M. Arch and Masters of Landscape Architecture from the University of Pennsylvania, where he received the E. Lewis Dales Traveling Fellowship. He is the recipient of the National Student Honor Award from the ALSA and a finalist for the SOM Architecture and Urban Design Traveling Fellowship. Noah has been a Lecturer at the University of Pennsylvania School of Design, and a Teaching Assistant for multiple design studios. He has worked for the Olin Partnership, KBAS, Hargreaves Associates, and Peter Walker and Partners.
In 2008 Noah founded NZL, a Brooklyn, NY- based practice incorporating his multidisciplinary background in ecology, anthropology and design, and a passion for urban systems, and focused on understanding landscapes as settings for social and environmental narratives.
Meir Lobaton (Team Member) received an Architecture degree from the Universidad Iberoamericana in Mexico City in 2002 and a Master of Science in Advanced Architectural Design from Columbia University GSAPP in 2007. As a CONACYT Scholar, he graduated from Columbia with Honors for Excellence in Design, and was a recipient of the Lucille Smyser Lowenfish Memorial Design Prize. Meir has taught architectural design studios at Columbia University and Universidad Iberoamericana and has been an invited critic at UANAM and Universidad Anahuac.
After collaborating with several architectural firms, in 2008 he founded MLC, a multidisciplinary think tank engaged in a search for new discursive formulas and design strategies aimed towards the dilution of existing boundaries between Art and Architecture. He is currently working on the completion of a project for a residential skyscraper in Mexico City, illustrating a poetry book, and collaborating with several renowned artists in the design and production of site-specific interventions.
Sanjukta Sen (Team Member) received a B.Arch with distinction from the School of Planning and Architecture, New Delhi in 2006. In 2009 she finished her Master of Landscape Architecture at the University of Pennsylvania where she was awarded the Narendra Juneja Medal for demonstrating exceptional commitment to ecological and social ideals in landscape architecture and the ASLA honor award that recognizes outstanding potential for contributions to the profession.
Her recent design work has been concerned with infrastructural and systemic landscapes as generators of urban form and structure. Her research probes the relationship between design and various techniques of representation particular to the field of landscape architecture.
Sanjukta currently works at James Corner/ Field Operations. She is also a lecturer in the Department of Landscape Architecture at the University of Pennsylvania where she teaches a first year graduate design studio along with courses in media and representation.
Prior to joining the faculty of Penn design she worked with Mathur /daCunha on their exhibition "SOAK, Mumbai in an Estuary" that opened at the National Gallery of Modern Art in Mumbai this summer.
Special Thanks
With nARCHITECTS office: Dominique Gonfard, Stephen Hagmann, Hubert Pelletier.
And with: Andre Guimond, Juliana Muniz, Teo Quintana, Rebecca Garnett, Tyler Velten and Brett Appel.