Zone 2: Working Waterline
Team Leader: Matthew Baird
Matthew Baird Architects
Site: Kill Van Kull and Bayonne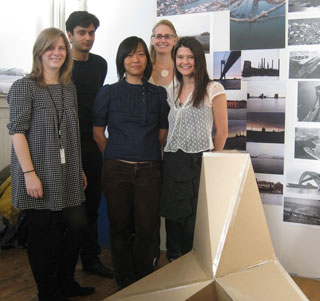 Firm Profile
Matthew Baird Architects is a young, Soho-based firm focused on the design of innovative contemporary works inspired by material research, articulate detailing, and environmental sensitivity. The studio has successfully completed diverse residential, commercial and institutional projects both locally and internationally. Its most recent projects, which equally managed to integrate multiple systems achieving true sustainability, include a 13-acre, environmentally sound equestrian center in Amagansett, New York, a mixed-use, green city-block competition in downtown Dallas, and a short-listed competition entry for the Shelburne Museum in Vermont. In 2004, Matthew Baird was awarded the Kalil Fellowship by Parsons The New School for Design in New York City for its work with alternative energy.
Team Bios
Matthew Baird (Team Leader, Matthew Baird Architects)
Matthew Baird received his undergraduate degree in Architecture from Princeton University in 1987 and his Master of Architecture degree from Columbia University in 1992. Prior to receiving his professional degree, he worked in the offices of Romaldo Giurgola, Richard Meier, and Antoine Predock. Upon completion of his graduate studies Mr. Baird joined the studio of Tod Williams Billie Tsien & Associates, where for ten years he collaborated as an Associate Architect on a range of museum, academic, and residential projects. His tenure at TWBTA culminated with serving as Project Architect for the new American Folk Art Museum, which opened to the public on December 11, 2001. After completing the museum, he left Tod Williams Billie Tsien & Associates and founded Matthew Baird Architects.
While at Columbia University Matthew was honored with the Columbia University Graduate Prize for Design and the William Kinne Fellowship. Since graduating he has completed an extended independent research project focused on the works of Alvar Aalto and funded by the American Scandinavian Foundation and the Finlandia Foundation. He has served on numerous design juries at architecture schools throughout the New York area, and has taught as a visiting adjunct professor of architecture in design studios at Yale University, Rhode Island School of Design, and Parsons The New School for Design. The work of Matthew Baird has been published internationally and been the subject of numerous exhibitions.
Kira Appelhans (Team Member, Working Earth Studios)
Kira Appelhans received her undergraduate degree in Landscape Horticulture and Design from Colorado State University in 2002, and her Master of Landscape Architecture from the University of Pennsylvania in 2005. While in graduate school she worked for the Philadelphia Water Department Office of Watersheds developing and designing low impact storm water management projects for west Philadelphia neighborhoods. She also co-authored the first place entry in the Grand Plaza International Ideas Competition for a new central square in Caracas, Venezuela. Kira's final project, smartPark, designed with classmate Maura Rockcastele, won an ASLA student award and was published in A+T magazine. Upon graduating, Kira worked for Balmori Associates, quickly becoming an associate with the firm. While at Balmori, Kira lead numerous competitions and projects with a major focus on sustainable design. These include the Campa de los Inglesies in Bilbao, Spain, a 78-acre design for the American Revolution Center outside Philadelphia and an award-winning roof garden in NOHO. In 2009 Kira left Balmori Associates to teach at the University of Texas, Austin and create art at a printmaking residency at the MacDowell Colony. She is currently establishing her own landscape design and art based office, Working Earth Studios, in Brooklyn.
Kristen Becker (Team Member, MUTUUS STUDIO)
Kristen is founder of MUTUUS STUDIO Inc., an interdisciplinary design studio in Brooklyn, New York. The studio pursues a diverse range of work to be involved with from public art projects such as the recently completed 21,000 sq ft oceanfront installation for Pae White at Art Basel Miami and an upcoming sound art installation project with Stephen Vitiello for New York's High Line, slated for 2010, to more permanent architectural work ranging from single family residences to residential and commercial interiors.
Kristen holds a Bachelor of Environmental Design Studies from the Technical University of Nova Scotia and an M. Arch from Dalhousie University. Kristen is a LEED accredited professional and is passionate about innovative design based on ecological principles and social consciousness. She is co-author of "The Good Office: Green Design on the Cutting Edge", published by Harper Collins Design in 2008 which was recently featured on Mother Nature Network in August 2009.
Prior to launching MUTUUS Studio, Kristen worked at Matthew Baird Architects in New York, Olson Sundberg Kundig Allen architects in Seattle, and sustainable design firm Watershed Architects in Virginia. While at Olson Sundberg she worked on projects that won various awards, including the Grand Award, National AIA award, and a Habitat for Humanity Builder's Choice Award.
Daniel Greenfield (Team Member, Matthew Baird Architects)
Originally from Caracas, Venezuela; Daniel holds a bachelors degree in architecture from Pratt Institute where he was commended with an outstanding thesis award for his degree project "Instruments for the City". Upon graduation, Daniel was selected for an exhibition design internship at the Guggenheim museum, assisting in the production of various exhibits including "Lucio Fontana: Venice/New York" and "No Limits, just edges: Jackson Pollock." He served a one-year tenure in the New York and Milan offices of Studio Daniel Libeskind working on numerous masterplan redevelopment projects and competitions across the globe. Daniel's interest in theater and performance art earned him a residency at Robert Wilson's Watermill Center in the summer of 2007.
After joining Matthew Baird Architects in 2008, Daniel has assisted on the design team for an environmentally sustainable equestrian center in Amagansett, New York and Re:Vision Dallas: a mixed-use, green city-block competition proposal in downtown Dallas, Texas; as well as performing work on various architectural renovation projects in New York City.
Nim Lee (Team Member, Biologist/Artist)
After studying natural science at Harvard University and working at the Arnold and National Arboretum, Nim Lee came to New York City to replicate a tropical rain forest at the American Museum of Natural History. For over five years, she continued to make scientific models for AMNH and other cultural institutions before moving to Duke University, where she earned a Master of Coastal Environmental Management. During graduate school, she continued her pursuit of communicating scientific ideas: creating a set of personal climate change decision making cards at Scripps University, teaching science through a National Science Foundation scholarship, and producing alone and with teams videos about the environment.
Since returning to NYC, Nim has spent countless hours immersed in New York City's water bodies. For three years she ran an aquatic stewardship program, I FISH NY, which introduced New Yorkers to their finned friends through recreational fishing. During her tenure, Nim developed innovative curriculum, games, and public programs. Nim lives in NYC and works as a freelance artist, scientist, writer, and educator. Her diverse projects include developing curriculum for Brooklyn Bridge Park, creating educational games, and making home goods from recycled materials. She is also cofounder of Human Nature Projects, a design company that focuses on people's interface with nature.
Ajay Manthripragada (Team Member, Architect)
Ajay Manthripragada holds degrees in Architecture from the University of California at Berkeley (B.A., 2002) and Princeton University (M. Arch, 2009). His master's thesis, A Positional Geometry: the National Library of Mexico, considered the political implications and formal possibilities of the ruled surface. He has worked in architecture offices in Paris and New York and is currently based in San Francisco.
Maria Milans del Bosch (Team Member, Matthew Baird Architects)
Maria Milans del Bosch was born in Madrid, Spain. She received her Bachelor and Master of Architecture from the Escuela Técnica Superior Arquitectura de Madrid where she was awarded with the third prize in the 2nd Fco. Javier Sáenz de Oiza Competition. Maria subsequently received her Master of Science in Advanced Architectural Design at Columbia University. Her academic and professional work has been published and exhibited in numerous locations, including the Spanish architectural magazine Arquitectura Viva. She co-authored "Reinventing the Shoreline", a project that obtained the third prize of the Premio Fundamentos, the 1st COAM Architecture Magazine Competition organized by Madrid Architects Association in Spain.
Prior to joining Matthew Baird Architects in 2008, Maria worked with various architecture firms in Spain and the United States. At Totem Arquitectos (Madrid) she worked on an energy efficient nursery school that was awarded the 2008 NAN Award for the Best Integration of Renewable Energy in Architecture. While at Obra Architects (New York) she worked in the development of the City of the Future Design Challenge Competition sponsored by the History Channel. At Matthew Baird Architects, Maria served as an integral member of the design team for an environmentally sustainable equestrian center in Amagansett, NY and on the shortlisted competition entry for the Shelburne Museum in Vermont. She was also the Project Architect of the competition Re:Vision Dallas, a mixed-use, green city-block competition in downtown Dallas.
Juanita Wichienkuer (Team Member, Matthew Baird Architects)
Juanita Wichienkuer has a design sensibility grounded in her passion for hands-on fabrication. From multi-story building to the hand-crafted object, her integrated approach to design and construction is embodied in all of her work. She is equally likely to be found climbing a scaffolding to inspect a cornice, sketching drawings in the field, or crafting a mockup in the workshop. Juanita is the co-founder of Yellow Laboratory, a design build studio whose work includes creating furniture from discarded pallets and design/construction of a Brooklyn design collective. Her work experience varies from project architect at Matthew Baird Design and Kahn Design Associates to construction project manager at Alcon Builders Group. She has overseen residential and commercial projects from design concept through construction, with hands-on involvement in everything from material salvage to subcontractor coordination, including recent construction of a kindergarten for the United Nations International School and a downtown brokerage firm.
Juanita holds a Master of Architecture from Parsons The New School for Design and an undergraduate degree in Architecture from the University of California at Berkeley. Juanita received the Bakewell Brown prize for drawing and the Alpha Rho Chi medal for leadership, service, and promise of professional merit. Her work has been exhibited at the New York Center for Architecture and published in Metropolis magazine, the Architect's Newspaper, and the Stanford Social Innovation Review.