ABOUT INSIDE/OUT
About the Blog
INSIDE/OUT is a forum for informal conversations involving MoMA and MoMA PS1 staff, artists, invited guests, and visitors. This site is for discussion purposes only and does not represent the official views of The Museum of Modern Art. Any views expressed on this website are those of the individual post author or commenter only.
This blog may include links to third-party sites. MoMA has not reviewed all of the sites linked to the site and is not responsible for any content of any linked site. Your linking to any off-site pages or to other sites is at your own risk. MoMA provides these links as a convenience only, and a link does not imply endorsement, sponsorship, or any affiliation with the linked site.
The Museum of Modern Art accepts no liability for the content of this site. By submitting a comment to INSIDE/OUT you agree to hold The Museum of Modern Art, its employees, agents, and representatives, free from implication in or responsibility for any and all repercussions, damages, or liability that may result from your post or comment.
By submitting comments you agree that your contributions are original and may be, at MoMA's discretion, included in INSIDE/OUT, and accept the Terms of Use governing the MoMA website.
INSIDE/OUT is a moderated blog and our goal is to publish all comments within one business day. MoMA reserves the right to refrain from publishing any comment that hinders rather than encourages respectful conversation, and to permanently bar any user whose comments are consistently deemed inappropriate. In addition, comments that are off-topic, offensive, defamatory, commercial in nature, or deemed otherwise inappropriate will not be published.
All images on this site are © The Museum of Modern Art unless otherwise indicated.
These policies are subject to review and modification.
Suggestions or inquiries: send e-mail to Jason Persse (Editor-in-Chief) at jason_persse@moma.org or to Carolyn Kelly (Managing Editor) at carolyn_kelly@moma.org.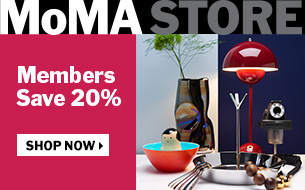 If you are interested in reproducing images from The Museum of Modern Art web site, please visit the Image Permissions page (www.moma.org/permissions). For additional information about using content from MoMA.org, please visit About this Site (www.moma.org/site).
© Copyright 2016 The Museum of Modern Art