Halloween is my favorite holiday…by a wide margin. If we're being honest, I might be a little too excited about October 31. Chalk it up to the influence of too many horror movies, or perhaps a neurochemical imbalance caused by acute candy-corn toxicity, but part of me truly believes that, for one night each year, the veil between this world and the next parts ever so slightly, allowing us a glimpse of the uncanny. Many of the artists represented in MoMA's collection certainly found inspiration in tales of things that go bump in the night. (Heck, sometimes it seems that the whole of German Expressionism is one protracted scream of terror.)
So join me, if you dare, for a brief look at some my favorite spook-tastic MoMA masterworks in…
THE MUSEUM THAT WOULDN'T DIE!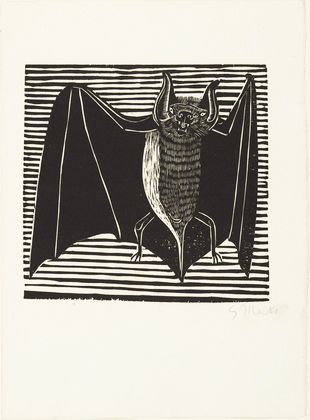 1. Gerhard Marcks. Vampire (Vampir). 1948
Well you can't have Halloween without at least one vampire…or at least a vampire bat. Marcks, one of the founding faculty members of the Bauhaus school, created this woodblock print just a year before he was awarded the prestigious Goethe Medal.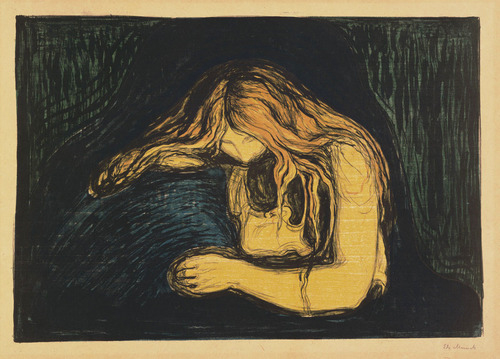 2. Edvard Munch. Vampyr II (Vampire II). 1895–1902
Although Halloween is the time of horror sequels, Vampire II isn't related to Marcks's bat. In fact, Munch's lush print was originally titled Love and Pain—its vampiric handle came courtesy of the Polish poet and critic Stanislaw Przybyszewski.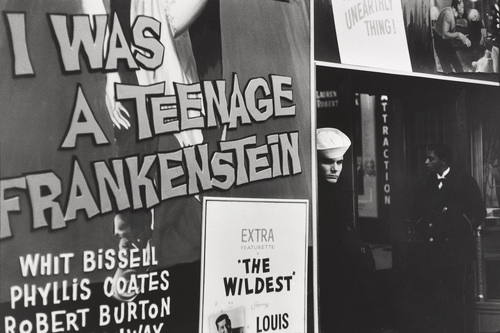 3. Frank Paulin. I Was a Teenage Frankenstein, Times Square, New York. 1957
Speaking of horror movies, there was a time when you couldn't walk 20 feet in Times Square without running into a seedy B-movie house, and most of them boasted titles like this. In the upper-right corner of the photo, you can make out the last two lines of the film's amazing tagline: "Body of a boy! Mind of a monster! Soul of an unearthly thing!"

4. Yoshitomo Nara. Round Eyes Ghost – II. 2002
Yoshitomo Nara's rendering of an adorably unquiet spirit doesn't exactly inspire terror, but at least it's got more attitude than that wimp Casper.

5. William Eggleston. Outskirts of Morton, Mississippi, Halloween. 1971
It's unclear just what these three are dressed up as, or why they're seemingly spending Halloween in the middle of nowhere. Eggleston's use of dye-transfer printing results in impossibly deep colors, and his subjects' ambivalence makes this photograph as eerie as any Hollywood back-lot cemetery.