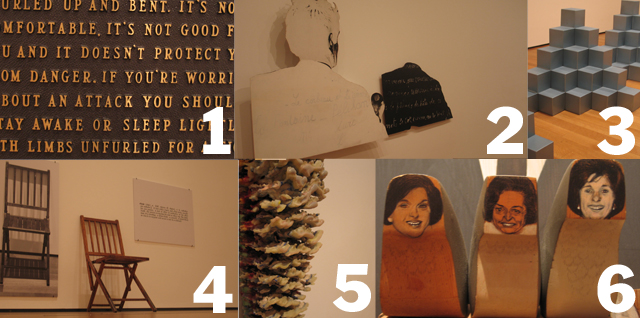 How well do you know your MoMA? Above are images of works from the MoMA collection that are currently on view throughout the Museum. If you think you can identify the artist and title of each work, please submit your answers by leaving a comment on this post. We'll provide the answers—along with some information about each work—next Friday, along with the next Do You Know Your MoMA? challenge.
ANSWERS TO LAST WEEK'S CHALLENGE:
I'm glad to see that there were lots of participants this week, and can happily announce that we have two winners! Congratulations to Adriana Schnoor and Rams Lenz, who both correctly identified all six artists and works.
1. Edvard Munch. The Storm. 1893
2. Marc Chagall. I and the Village. 1911
3. Giorgio de Chirico. The Song of Love.  June–July 1914
4. Henri Matisse. The Red Studio. Fall 1911
5. Rachel Whiteread. Water Tower. 1998
6. René Magritte. The False Mirror. 1928