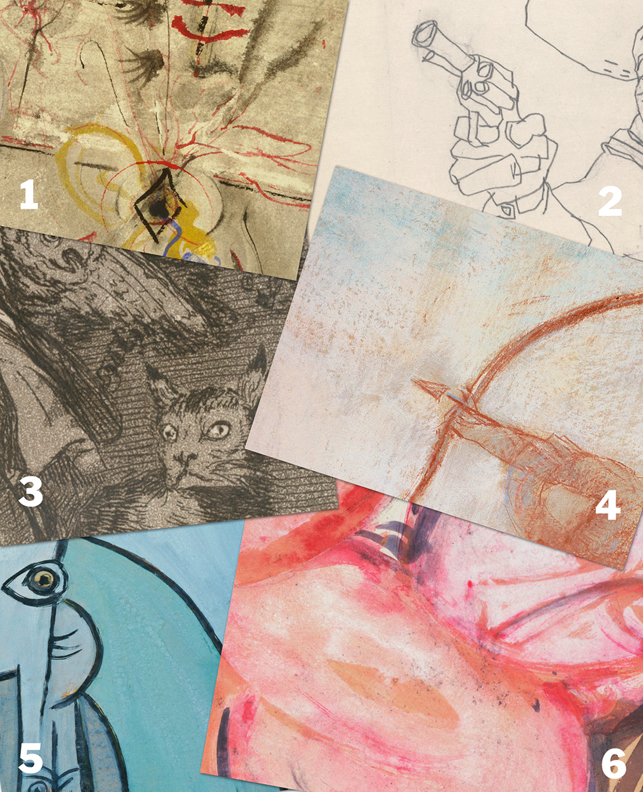 How well do you know your MoMA? Above are images of works from the MoMA collection that are currently on view in the galleries. If you think you can identify the artist, title, and location of each work, please submit your answers by leaving a comment on this post.  We'll provide the answers—along with some information about each work—next Friday, along with the next Do You Know Your MoMA? challenge.
ANSWERS TO LAST WEEK'S CHALLENGE:
So we made last Friday's challenge harder, and it showed, as there were fewer correct submissions. However we do have a winner: congratulations to Ottavia Rosa—the only thing you missed was the location of Sol Lewitt's Wall Drawing #1144, which is currently on view in the first-floor film lobby. You are the winner!
Honorable mention goes to Nettrice (the winner of the first challenge) who missed work #5, Mia Kim who missed work #4, and to Laura Rosa and Marel De Lara Cardona, who both correctly identified the artists but neglected to identify the titles of the works or their locations at MoMA.
Here are the answers to last week's challenge:
1. Egmont Arens and Theodore C. Brookhart. Streamliner Meat Slicer (model 410). Third floor
2. Mark Rothko. No. 5/No. 22. Fourth floor, gallery 19
3. Sol LeWitt. Wall Drawing #1144, Broken Bands of Color in Four Directions. First floor, film lobby
4. Solari di Udine. Split Flap Board Flight Information Display System. Third floor
5. Charles Rennie Mackintosh. Side Chair. Third floor
6. Andy Warhol. Gold Marilyn Monroe. Fourth floor, gallery 21